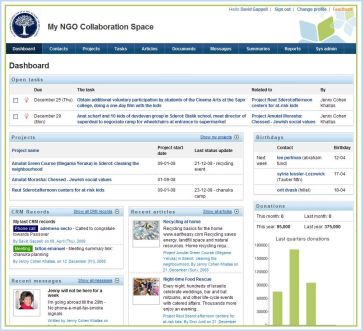 An advanced internet system for resource development, partnership and program management for organizations that serve the public.
Free trial!
System components:

Contact Management (CRM for Funders & Partners)
Resource Development and Donations Management
Project Management
Document Management
Tasks Management and Reminders
Newsletters

Why Altro?

Altro enables you to manage and implement your organization's activities and projects more effectively, whilst improving your syncronisation, transparency, accountability and flow of information within the organization.
In addition Altro provides you with an advanced CRM - (customer-relations-management) tool to manage relationships with funders and other partners, uncluding individual control of communications with them and links to projects.

Who is Altro made for?

Altro is tailor-made to serve leading staff members in NGOs that are confronted with the on-going challenge of achieving programatic aims, despite unrelenting stress in the domains of the budget and management of manpower and other resources.
Project management

Project file management includes budgetary information, meeting summaries, goals, events, mile stones, statuses, publications and more.

Funders & partners files

Contacts management includes detailed follow-up with funders and other contacts , according to CRM principles.

Task management

Task management within the organization includes the option of categorizing tasks as project-related or contact person-related, with backing for group tasks.
How do you start:
The Altro service is provided by Tandemwise Co. servers (We take care of service provision, security and back-up) , so all you need is a computer and an internet connection. The first trial month is at our expense, so press here to register